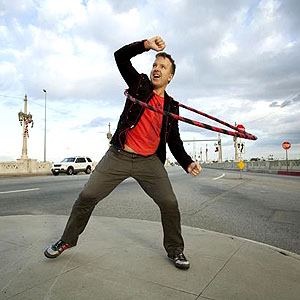 Once upon a time, on May 4, 2003, to be specific, I was at a party in the Oakland hills populated by a bevy of noteworthy bloggers. This was, of course, back in the day when most people didn't know what blogs and bloggers were, but if you did then you'd have known a lot of these people. I was on the back deck of Min Jung's four story home watching the night sky for the meteor shower. A DJ was spinning some trance music at the other end of the deck when Jason Strauss arrived. This smiling guy approached me with 6 large homemade hoops tossed over his shoulder. They were larger than any hoop I'd ever seen, made from farming irrigation tubing and decorated with electrical and gaffer tape. "Philo, you gotta try one of these," he said. While I initially refused, I eventually acquiesced.
Once inside the circle it wasn't long before I became aware that something profound was happening. The movement of the hoop around my waist fell into synch with the beat of the music. My mind started turning off and my body started turning on. I found myself at the center of my own rotation. Vera Fleischer, who had just moved to the Bay Area from Germany, was hooping for the first time as well. She said, "I think I found something I'm going to do for the rest of my life!" I excitedly told her I felt the same.
Much later that night, just before sunrise, Jason returned saying, "Philo, Vera, since neither of you shared your hoops with anyone all night it's obvious you two are going to need hoops of your own. You can each have one under one condition. You have to promise me you'll make good use of them." I told him jokingly, "Of course we'll make good use of them, don't you know Vera and I are the co-founders of, uh, hmm, Bay Area Hoopers?" Vera chimed right in, "Yes, don't you know we hoop in the park every weekend?" Amy overheard this saying, "You do? I want to come," and Bay Area Hoopers was born. Six people gathered for a hooping session on a Sunday afternoon in Dolores Park. The group is still meeting today and has a Facebook group with 3,000+ members.
At that first BAH gathering Ariel Meadow Stallings, Vera and I were talking about the almost complete lack of hooping info online. "We need to change that," I said, adding, "the whole world needs to know about this!" I bought the domain for hooping.org and the three of us, along with Jason and Amy, started a hooping blog that would spin it's way into a full fledged online magazine with 2 million plus visitors annually. With the growth of hooping.org also came the replication of our Bay Area Hoopers group in communities around the globe.
Meanwhile, the more we hooped, the better we became at it. Vera and I were spinning things up in Golden Gate Park one day when someone approached us about performing at DNA Lounge. Little did I know I'd go on to perform across the country and beyond and with such diverse music artists as Giorgio Moroder, Miho Hitori, Haiti's RAM, LA's Dam-Funk, Sofrito Soundsystem, Pierre Kwenders, Escort and more. I've also performed in some truly spectacular settings, most noteworthy being the Cleveland Museum of Art which invited me back to take the stage at their annual Solstice festival seven times. My first hooping video Gotta Hoop ended up being featured by the New York Times and won numerous awards including Video of the Year from the Los Angeles Downtown News. It also helped score me the 2012 Male Hooper of the Year Hoopie Award, voted on by my peers.
What started on something of a whim and as a fun side project, however, did end up taking over a lot of my life. This funny thing can happen too when you turn what you do for fun into what you do for work – it becomes work. And while there are those who say "Do what you love and the money will follow," I learned first hand that this isn't always the case.
Over the years the bills started to pile up and my love for it all started to wane. In 2017, I took over Hoopcamp, an annual hoop gathering in the Santa Cruz mountain redwoods that attracted hundreds of hoopers from all over the world. On one hand I wanted to see the event continue because I loved it. On the other it was a last ditch effort to try and make the hoop thing financially viable after being in the red for several years. The event, perhaps the most highly reviewed Hoopcamp to date, unfortunately ended thousands in the hole. Generous contributions from the community did bring it up to breaking even, but the wind in my sails evaporated.
By July of 2017, after 14 years of publishing the site five-days-a-week and with that high level of traffic, hooping.org had also become incredibly unwieldy and expensive to maintain. I didn't know that particular day that it would be the final post, but I just couldn't do it anymore. We had an amazing run while it lasted, and I couldn't be more grateful to have been at the helm of it all and to have met so many amazing people from all over the world. Except for a few performances that followed, when hooping.org died I hung up my hoop too. It was time to focus on other things.
After the global pandemic started winding down, however, I found myself wanting to lose a few pounds. I took my hoop down off the wall, took it outside, put my airpods in my ears and started hoop dancing in the street late at night. And wouldn't you know it, all that fun and joy that I had initially found inside a simple plastic circle with sparkly tape on it came rolling back to me all over again. I've been hooping weekly ever since. Modern hoop dance will forever be one of my great loves in life, though I'm enjoying it all again on a much deeper level now that it isn't my business, but simply my art.